Rufus: Male.black Shih Tzu mix-the shelter thinks I am 7 yrs old.

We were informed that he was in medical with a " blown eye" . No one was willing to adopt a dog that was past his prime and in need of expensive medical proceedures. It was incomprehensible to think that his life would end this way. We could not let that happen. After meeting him and assessing the injury, it was determined that with surgery, he would be able to live a normal and happy life. We took him home and loved him up and oh what an adorable boy he turned out to be! After making a full recovery, he was ready to find his new forever home. He must have had an angel on his shoulder - he was adopted by some wonderful people who fell in love with him immediately and made him a part of their family.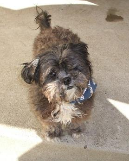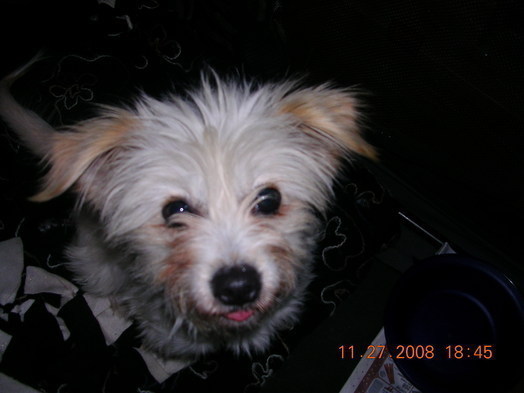 Because the intake at the shelter said she would bite if you touched her too quickly, tried to touch her feet, or take her food, she was limited for adoption by rescues only or to be put down. As past experience has proven to us, so many of these dogs are just scared and in need of understanding, patience, and a sense of security.
We took her in and she immediately snuggled into our arms and showed her true personality that the shelter never saw. She was the sweetest dog we had taken in to date. She never once displayed any signs of aggression for any reason during her stay with us. It wasn't hard to fall in love with her , and she was promptly adopted.

Kaylee: 8lb Maltese/Poodle - Rescues only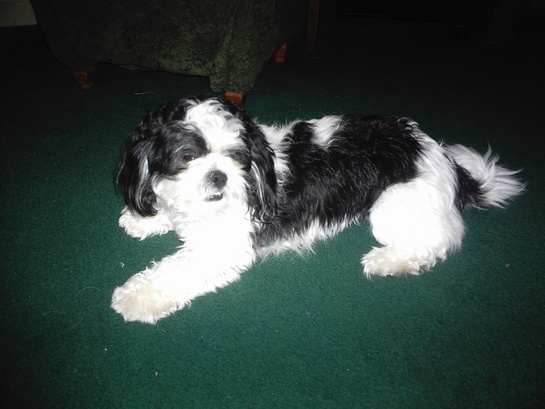 Sophie: 1 1/2 yr old Lhasa
Relinquished by owner

She was born in a puppy mill in Missouri and was purchased and shipped to California by her new owners. Absolutely gorgeous black and white Lhasa Aspo. To make a long story short, Sophie was completely ignored and banished to the garage to live alone.
Very little human contact or love created separation anxiety for this sweet little girl.The owner told the neighbor that she was stupid and was going to put her to sleep.
The neighbors daughter told a friend about Sophie, who's mother offered to take the dog off their hands.That is where we were contacted and asked if we could find a forever home for Sophie.
Stupid only applied to the owner who had no clue as to what an amazing companion they had turned their back on. Adopters flocked to apply ! But only one family had the desire to do whatever it took to make her whole again. Today Sophie is free of her separation anxiety and lives a life she so deserves.